Camping is one thing, but portable sink camping is a whole world of luxury! It isn't exactly glamping though. Still, life in the outdoors does take a toll on your personal hygiene – and those of your family.
One simple fix is camping with a portable sink. Your hands, feet, and other parts with be satisfied. Dishes and cooking water will be easier to fetch too.
Here at RVcampr, we collected the best portable camping sinks on this page so you don't have to go on a wild goose chase. This list is tried and tested by campers and RVers alike.
What Is A Camping Sink?
A camping sink can be many things depending on how you plan on using it. For a weekend camping trip, a few simple wash basins might suffice – see the list below for those.
For large groups of three or more, you might need a portable sink with a faucet and pump. If you plan on long-term camping, you might need a portable kitchen with a built-in sink and/or portable sinks with hot and cold water options.
Related: RV Toilets that Rock!
What Should I Look For In A Camping Sink?
There are a lot of options to choose from when deciding which camping sink you want. Some come with a running water faucet and reserve water tank, while others may be simple plastic tub that requires no maintenance whatsoever.
Whether you're looking for a jack of all trades or something fairly simple, there's no shortage of options available to you. Lets get in to the portable camping sinks and their reviews.
Related: Best Portable Air Conditioners for Camping Tents
Best Portable Camping Sinks
BPA Free, durable, versatile, and foldable with a lifetime guarantee.
We purchased these and used them within a couple of days. They are perfect for washing dishes, carrying items, and storage while camping. Overall great quality. They have very solid plastic handles and are super easy to clean when finished.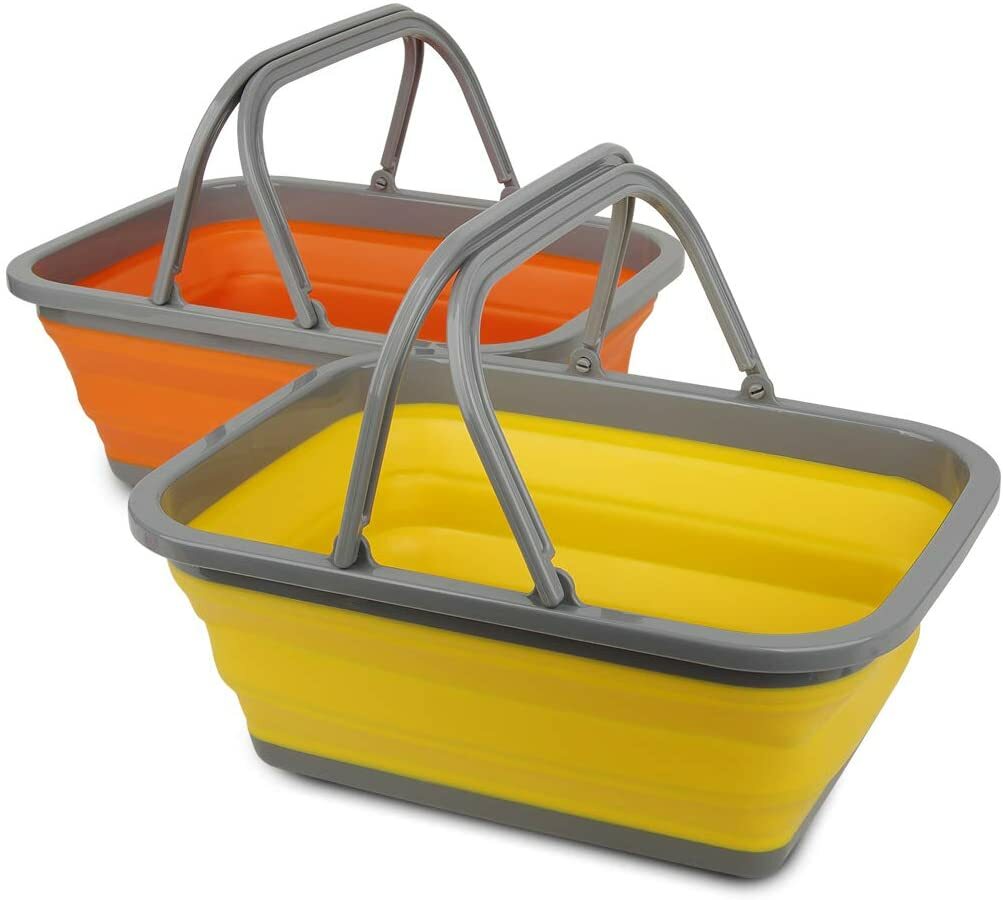 The Tiawudi 2-pack collapsible sinks have become an essential part of camping. Often we've used one for washing and the other for carrying items and storage.
Most importantly, it holds its shape which is why its the only collapsable product on best portable camping sinks list .
Multipurpose, durable, space-saving, and large with integrated plug and drainer.
Our reviewers bought three of these tubs. Keeping one in the kitchen sink to soak dishes and the other two for fine washables.
They love the drain feature! Makes it so easy to drain the soapy or dirty water and rinse everything clean so easily. Much better than flipping over a full tub of water to drain it.
This is great while camping far from the RV or just on the side. Another portable sink you can also use as storage at a reasonable price so you can buy multiple.
Next on the best portable camping sinks list. It's a movable hygiene station and is large enough for dishes too.
It's shallow but wide & roomy, and the faucet is up high enough that you wash large containers. Plus it has a towel rack & soap dispenser.
You will need to apply some strength to pop the pedestals into place, but other than that, it's pretty easy to put together.
Many reviewers use a regular 5-gallon bucket with a lid for the wastewater. The bucket just sits on top of the bottom base, tucked in neatly behind the pedestals, & is easy to carry out to dump, with the handle on the bucket.
The Avocahom is a premium product with a deepen sink and flexible faucet. Its portable folding design gives you the flexibility to go all over the camping site, for multiple uses.
Great portable sink and table for outdoor cook-offs. If something breaks or is missing you get great customer service.
For those who prefer to do dishes outside of the camper. The rack on the bottom is sturdy, and the table is tall so you don't have to slouch over it.
Perfect for prepping food, dishes, and washing hands before a meal. it is long enough that it can hold plenty of items. It is sturdy, easy to assemble, and easy to fold back up!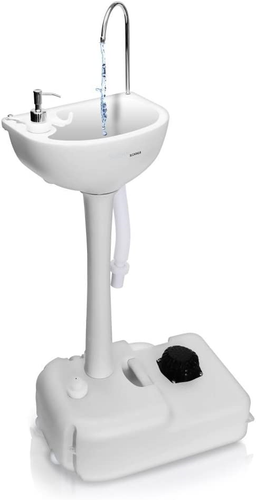 The Best Sink for Camping in comfort. The Serenelife portable camping sink is our #1 pick because it hits all our camping and outdoor paint points in the right places.
This transportable faucet station has a generous water capacity and is made of HDPE plastic which makes it suitable for a wide range of food & other products Perfectly non-toxic & safe for the whole family.
The integrated liquid soap dispenser, stainless steel towel holder, and flexible drainage hose allow you to direct waste away, these additions ensure you're able to maintain a healthy level of hygiene no matter where you camp.
Related: Keep the lights on with these top generators
Cheers to the Great Outdoors
We decided to keep our best portable camping sinks list short because only a few fit the criteria of basic necessity and advanced cooking and cleaning needs – like the Avocahom folding fish cleaning table.
The worst thing about camping, especially for a beginner camper, is the lack of daily home conveniences. Thankfully, one such problem can be a thing of the past if you get a good camping sink.
Portable camping sinks allow us to bring a travel-sized basin with us for washing dishes, brushing our teeth, or even preparing a meal.
Hope this list helps. Be safe out there. Enjoy your portable camping sinks!